OUR PRODUCTS
ELECTRICAL SYSTEMS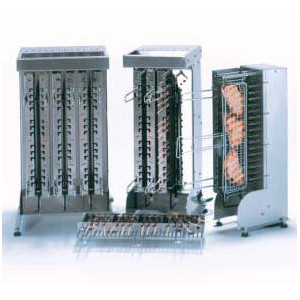 AUTOMATIC ROTATION FOR EVERY SINGLE SKEWER
made with meat or fish
Automatic rotation for every skewer.
Our machines have extra chargers frames. From a cooking to another there is a break of only 5 seconds.
Our product are economics from every point of view: the cost of electricity necessary for cooking a skewer is about € 0.15 cents.
There are special grills for cooking sausages and meats of all kinds.
GAS SYSTEMS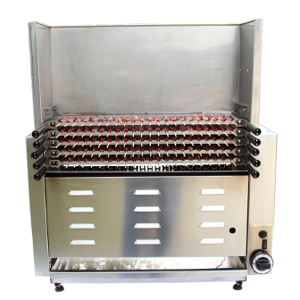 AUTOMATIC ROTATION FOR EVERY SINGLE SKEWER
made with meat or fish
The gas models provide a perfect cooking in all respects, gaining the top position among the cooking solutions.
The economy of exercise and the high quality cooking results, as well as the affordable prices, make the use of our products perfect to use in any kind of catering, even in drive-in restaurants.
The cooking capacity varies from the model, from a minimum of 66 to a maximum of 110 pieces at a time, in about 7 minutes.