ELECTRICAL SYSTEM
POWER SUPPLIES MOD. S 26 R - S 52 R - S 78 R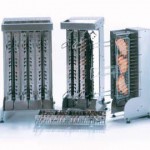 The SPIEDOMATIC allows to cook the typical skewers of the Abruzzo region, which have a standard size of 1.5 x 1.5 cm, the sticks are those standard that are available in trade. In addition to those made of sheep, other versions made of chicken or crumbed fish are suitable.
The Electric machine is ideal to use in small places (bars, pubs, pizzerias, etc. ..). It does not require extractor fan and can also be placed at the view of customers, as a traditional coffee machine.
The magazines and the electrical resistances are vertically placed, in order to not produce smoke. Indeed the fat has no contact with the resistance, but it is kept in a specific drawer.
The rotary movement (patent pending) is completely automatic. The operator only needs to insert and remove the magazines after about 7/8 minutes.
The resistances are autonomous and can be switched according to the cooking needs. The heating of resistance is immediate and the cooking can be immediately started.
To use the power supply it is necessary to consider the voltage and power consumption of each model (see data plate).
All the machines are made ​​of stainless steel and they are non-deformable. They are all in compliance with the European directives for food cooking.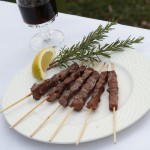 THE ELECTRIC MODELS ARE THREE:
S 26 R NOW OUT OF PRODUCTION
S 52 R FOR COOKING N. 52 SKEWER IN 7/8 MINUTES
S 78 R FOR COOKING N. 52 SKEWER IN 7/8 MINUTES
FEATURES

TECHNICAL DATA

ELECRTICAL

S26R

S52R

S78R

Number resistors
1
2
3
Power comsumption
230V
230V
380V
Power transmission
1.850W
3.700W
5.550W
Height
64
71
71
Width
20
35
35
Depth
27
30
40
Frames chargers
2
4
6
Cooking capacity in pieces
26
52
78
the manufacturer reserves the right to modify data without prior notice
OUR PRODUCTS:
Cooking with homogeneous absorption of heat

Use clean energy sources

Total absence of smoke

No alteration of taste

Highlight the goodness of food