GAS SYSTEMS
GAS SUPPLY MOD. S 22/66G - S 22/88G - 22/110 G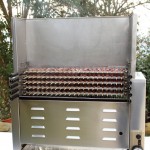 The SPIEDOMATIC allows to cook the typical skewers of Abruzzo region, which have a standard size of 1.5 x 1.5 cm, the sticks are those standard that are available in trade. In addition to those made of sheep, other versions made of chicken or crumbed fish are suitable.
The gas models provide a perfect cooking in all respects, gaining the top position among the cooking solutions, especially for restaurants, festivals, outdoor chalets. The economy of exercise and the high quality cooking results, make our products perfect to use in every kind of catering, even in drive–in restaurants.
For occasions needed of large caterings, for cooking big quantities of food and for parties or outdoor festivals in the country, the best solution is to use gas-fuelled machines (small cylinder - cylinder LPG - CNG). You will be provided with all the necessary nozzles for different feeds.
All the machines are made ​​of stainless steel, they are non-deformable. They are all in compliance with the European cooking directives.
The gas model requires extractor fan which is normally provided in all restaurant kitchens.
The rotary movement (patent pending) is completely automatic. The operator must only insert and remove the magazines after about 7/8 minutes.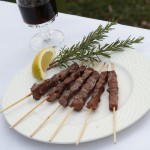 THE GAS MODELS ARE THREE:
S 22/66 G FOR COOKING N. 66 SKEWER IN 7/8 MINUTES
S 22/88 G FOR COOKING N. 88 SKEWER IN 7/8 MINUTES
S 22/110 G FOR COOKING N. 110 SKEWER IN 7/8 MINUTES
The rotary movement of the skewers in gas machines is identical to that of electric ones, but horizontal.
Cooking is the same of the one made on coal (there is a bit smoke but the result is great).
The machines can also be used in gas vans (such as fryers).
FEATURES

TECHNICAL DATA

GAS

S66G

S88G

S110G

Width
75
75
75
Depth
35
35
35
Frames chargers
3
4
5
Cooking capacity in pieces
66
88
110
Nominal flow burner
8,5kw
8,5kw
8,5kw
the manufacturer reserves the right to modify data without prior notice
OUR PRODUCTS:
Cooking with homogeneous absorption of heat

Use clean energy sources

Total absence of smoke

No alteration of taste

Highlight the goodness of products